A Month In Special Collections:
Sunday, May 7, 2017 5:30-9:00 P.M. Hotel Emma Elephant Cellar
An evening of find food and drink inspired by UTSA's renowned Mexican Cookbook Collection. Discover how the past influences today's Mexican cuisine with a menu developed by a team of groundbreaking chefs from Mexico and San Antonio. Enjoy modern interpretations of traditional recipes from the collection.
Proceeds from the event will support UTSA's Mexican Cookbook Collection, one of the city's archival jewels with over 1,800 titles from 1789 to the present.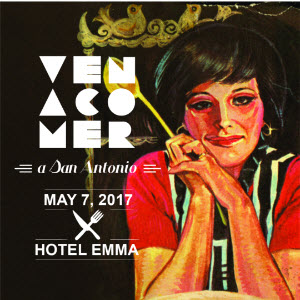 NEDCC metadata: 354 negative identified and described SRT scanning: 116 folders (2215 pages of estimated 72164 pages)
UTSA Libraries Special Collections is pleased to provide copies of materials to facilitate private study, scholarship, or research. To learn more about our reproduction services, please visit our website.
Have questions about our collections? We are happy to help! Contact us at [email protected]
Pulquero photograph, taken by Leo Matiz, undated.
Photo postcards of pulque workers, undated.
MS 486. Mexican Spirits Collection .5 linear feet of pulque and aguariente photographs, photo postcards, and ephemera.