We are a Company Limited by Guarantee, with 3 Part Time Staff, numerous volunteers and a voluntary Board of Directors. What we do: • Provide a link between people interested in volunteering and non-profit groups looking for volunteers. • Advertise for volunteers on behalf of 300+ non-profit groups in Sligo and refer interested people to these groups. • Offer Volunteer Information Workshops to help people get started. • Offer training to Not for Profit Groups around Volunteer Management • Process Garda Vetting on behalf of Not for Profits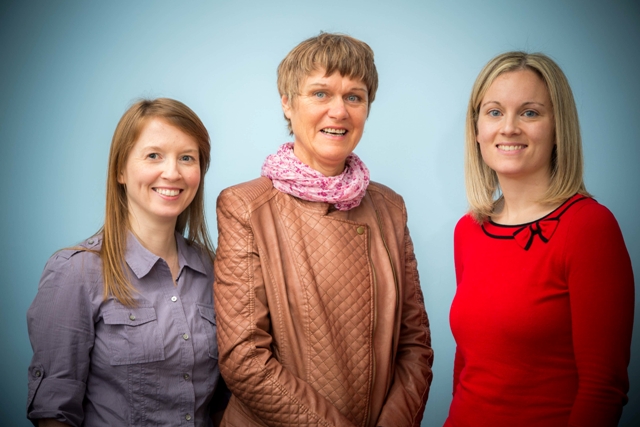 From L-R: Staff of Sligo Volunteer Centre: Riona Rochford, Volunteer Development Officer; Paula Naughton, Volunteer Development Officer; Ciara Herity, Manager
The year ended has been a very busy and successful year for Sligo Volunteer Centre. The numbers of people seeking to volunteer and willing to give their time, skills and energies generously and freely continue to grow and be an inspiration to us all. Volunteering helps others in need but also brings benefits to those who volunteer. As the Country emerges from the dark years of recession we must remember that there are still many, many people who will never share in these improved conditions. We have growing numbers of homelessness, hungry and lonely people in need of support. When services of state cannot meet their needs, volunteers can help. Sligo Volunteer Centre is at the forefront in training, recruiting and equipping volunteers to support people and organisations who need help and encouragement in meeting challenges and difficulties. I hope we long continue to do this. We acknowledge financial support from the Department of Environment, Community and Local Government, Sligo County Council, Sligo LEADER Partnership and Ulster Bank who have grant aided the Centre throughout the year. In December 2015, we received the wonderful news that Sligo has been selected as European Volunteering Capital 2017. This puts us on equal par with previous recipients – Barcelona, Lisbon and London. It will be a serious challenge for the Centre to cater for such an honour in 2017, and I would urge everyone to face up to this challenge and help promote Sligo as a worthy European Capital of Volunteering. I have to acknowledge the great work of Ciara and her staff in achieving this honour. I should also mention the great support given to us by local MEP, and Patron of the Volunteer Centre, Marian Harkin. In conclusion, I thank all the staff at the Centre and the Board of Directors for their commitment , advice courtesy and good fellowship to me during the year. Go raibh mile maith agat Larry Mullin Chair
As another busy and successful year for the Centre comes to an end, I would like to particularly thank the staff of the Centre - Paula, Riona, Niamh who covered Rionas Maternity leave and Olivia who was an intern with us through the year. I would also like to thank all the volunteers involved n the service, starting with the Board of Directors, who give generously of their time and are always at the end of the phone. They are - Larry Mullin, Chair; Maria Gallo, Vice Chair; Kathya Rouse, Treasurer; Mary McMoreland, Secretary; Sean Forde, Shupai Matewa; Jack Devaney; Dorothy Clarke and Hugh McConville. A huge Thank you to the volunteers who have been volunteering with us through the year - Fiona Campbell, Mary Callaghan, Laura Keegan and Pamela Hunter. It is a team effort in the Centre, and everyone plays their part. I would also like to acknowledge some support that came from overseas from some generous donors. Mr. Cyril O'Connors donation enabled us to assist a Gardening Project in Globe House and a kind donation from the Lima/Beach Family in the USA, which enabled us to become Associate Sponsors of Sligo Rovers FC for the year. This brought the work of Sligo Volunteer Centre to a wider audience. The end of 2015 saw great excitement with the Centre having two success stories - firstly with our successful application to the Skills & Opportunities Fund from Ulster Bank whch will allow us to run our Headstart Programme in 2016/2017 assisting people who are unemployed and wish to volunteer to increase their employability. The second, was our succesful joint bid with Sligo County Council to have Sligo named as European Volunteering Capital 2017. This is a great accolade for Sligo and we look forward to being part of the planning for this celebration! Ciara Herity Manager Sligo Volunteer Centre
Volunteer Support Service
285 people supported to get started on their volunteer journey
14952 Hours of Volunteering contributed
260 Placements made into 65 Not for Profit Groups
22 Volunteer Information Workshops held with 64 people in attendance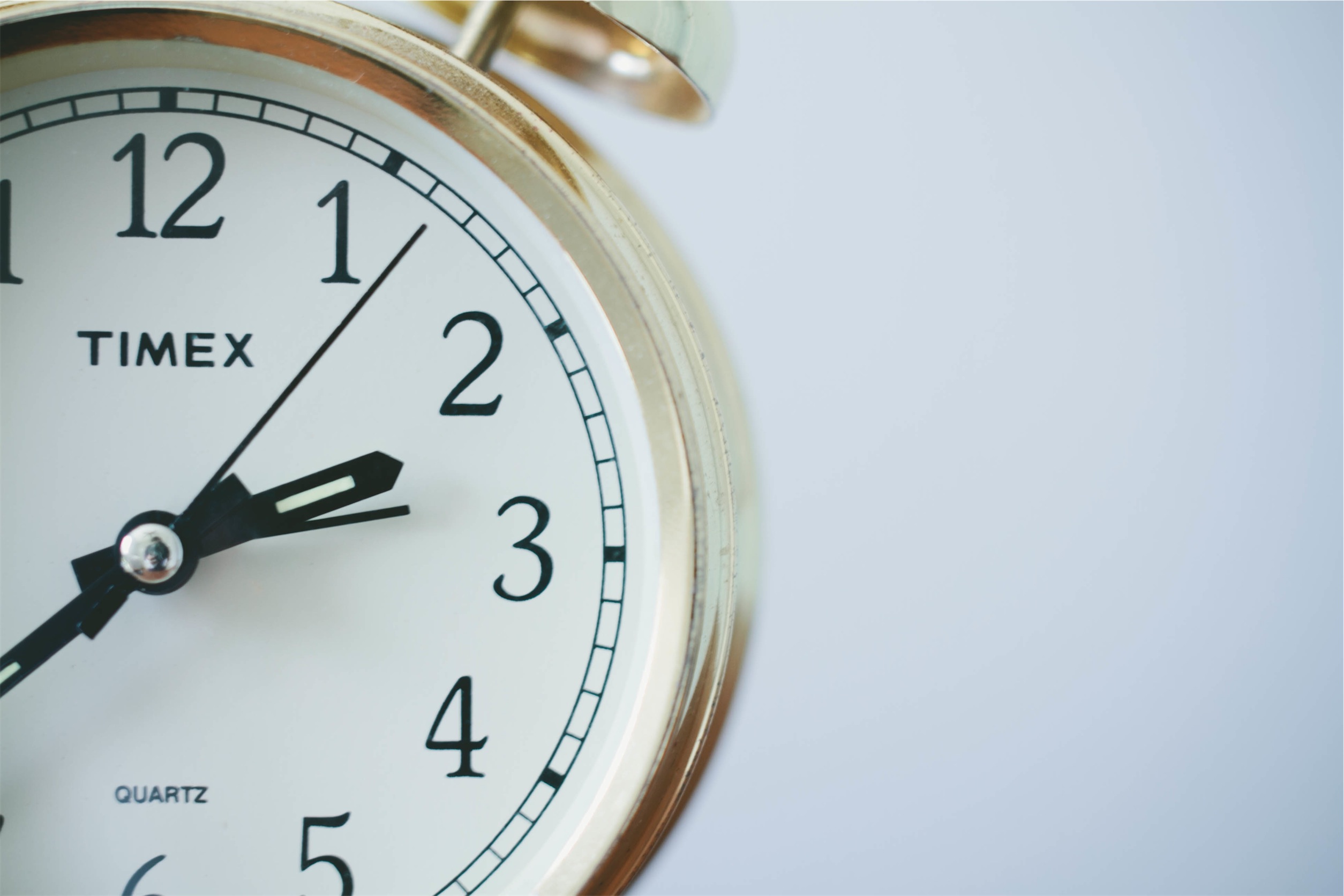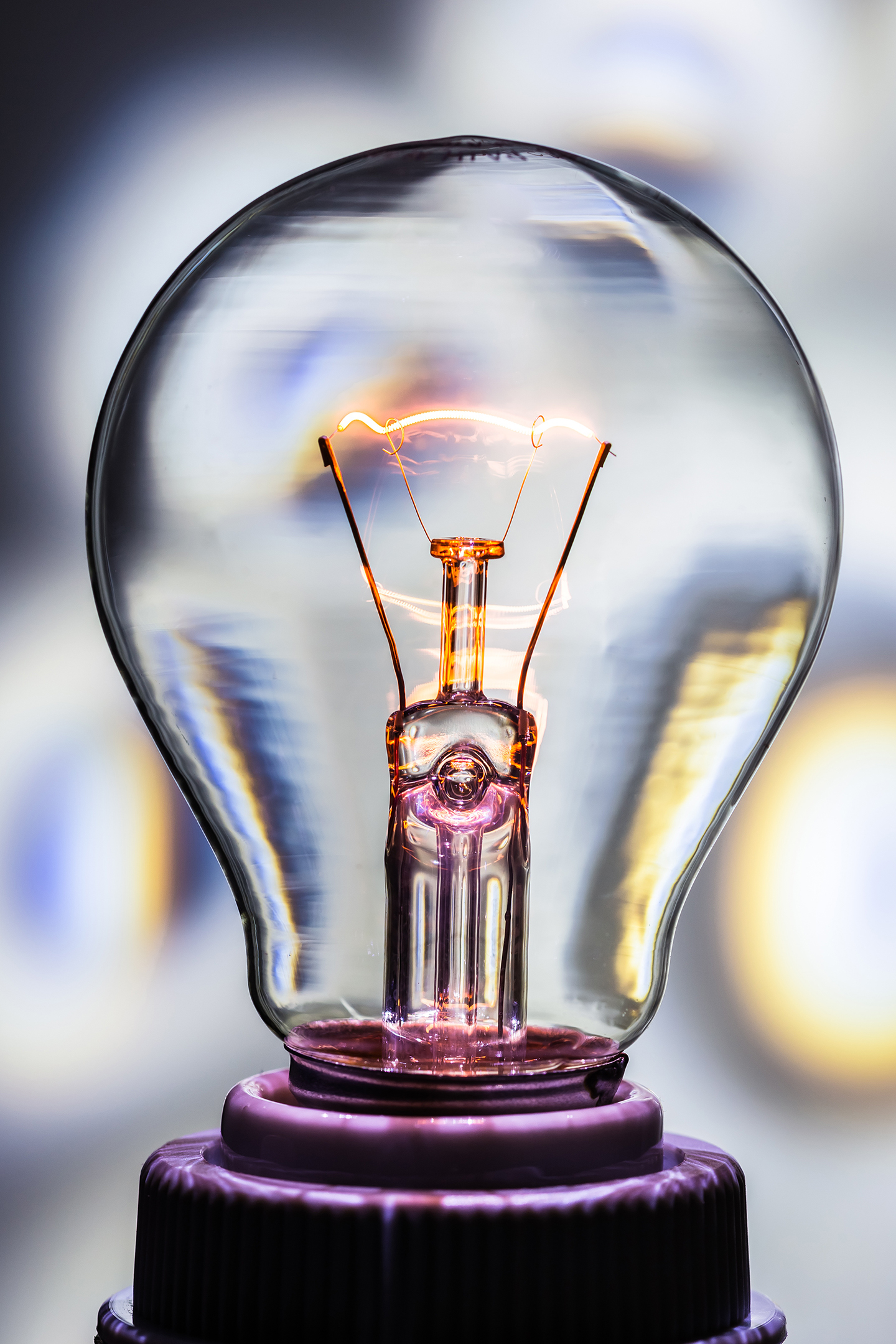 Support Services to Volunteer Involving Organsations (VIO's)
Supported 126 VIO's, around their Volunteer Programmes, 16 of whom were new to the service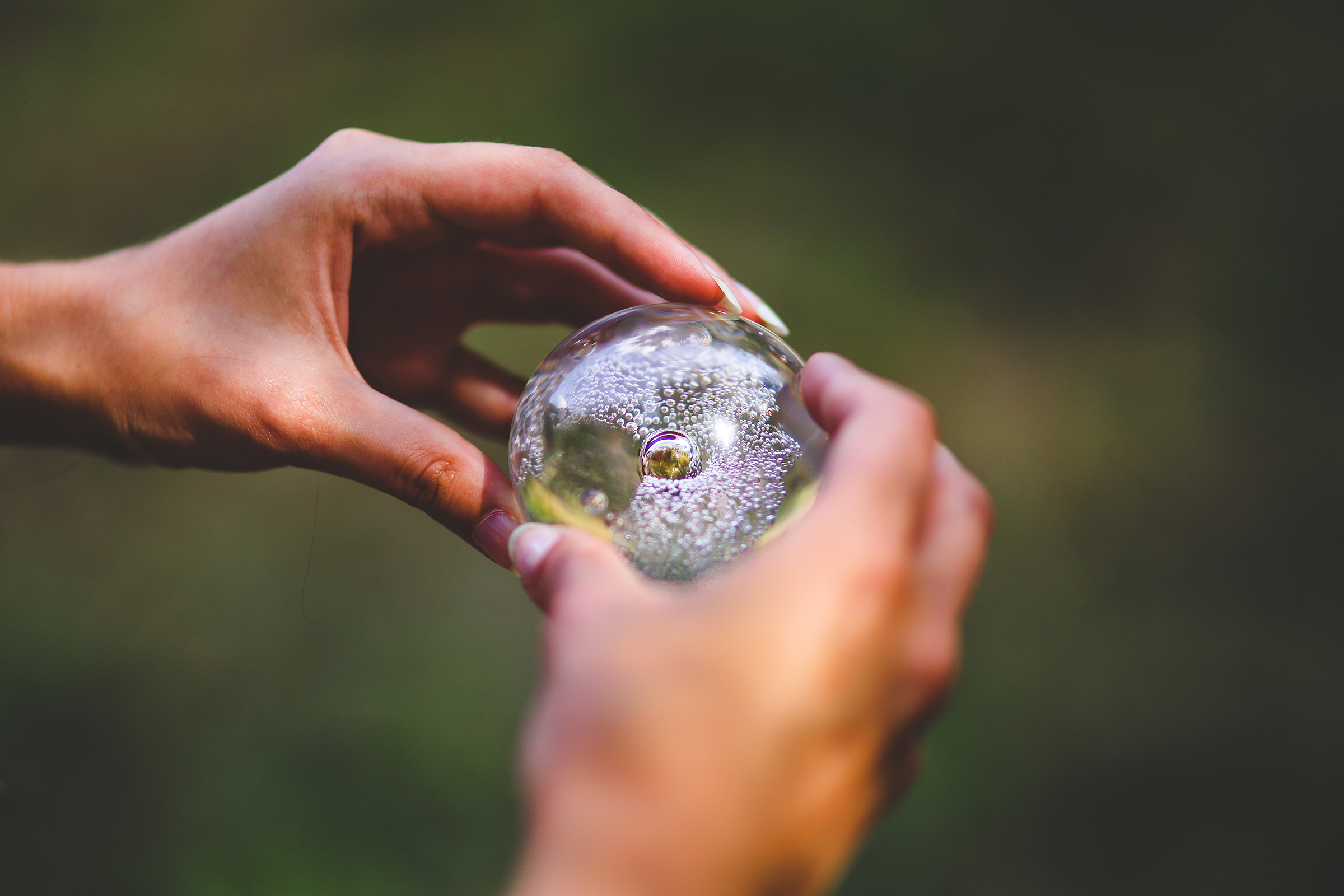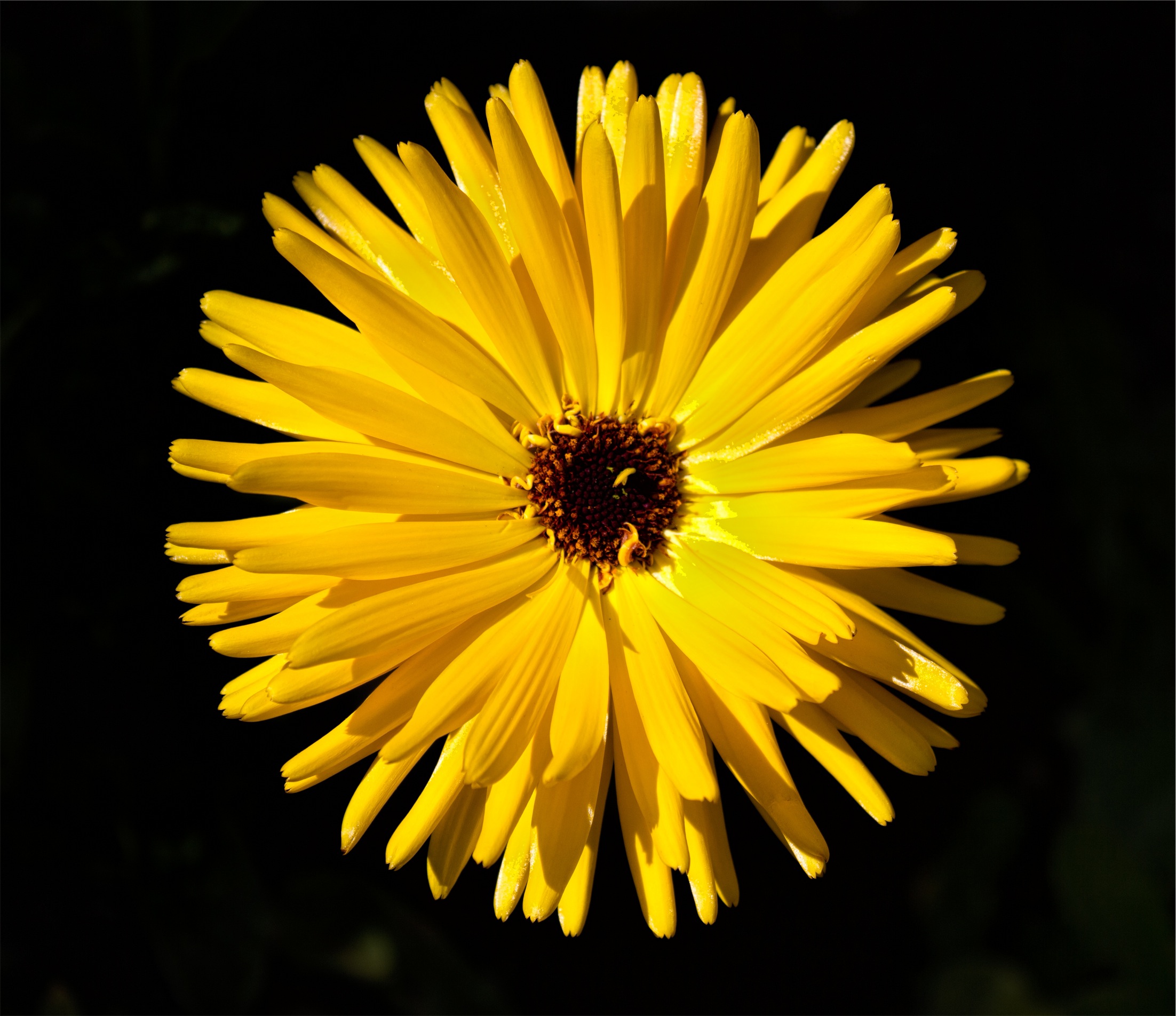 Promoted 225 Opportunities to volunteer - 154 of these were new
Placement rate of 44% - this means that 44% of people who wished to volunteer got started in a suitable Volunteer Opportunity
Processed 238 Garda Vetting Forms on behalf of 15 groups.
Training & Support for Volunteer Managers
We offer training to Volunteer Involving Organisations to support them in managing their Volunteer Programme. Training and ongoing support is a vital part of the service we offer to VIO's as it gives them the capacity to strengthen their Volunteer Programme. In 2016, we offered Volunteer Management Training, as well as GIVE Training (Grassroots Integration through the Volunteering Experience). 10 Participants took part in Volunteer Management Training and 9 Participants in GIVE Training.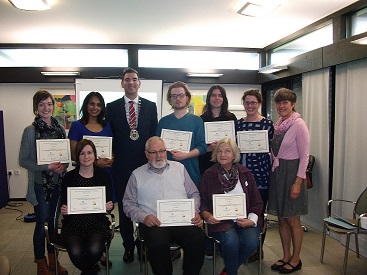 We participated in and organised several forums to promote volunteering around County Sligo. These included: Holding Outreach in Enniscrone, Ballymote & Grange Stand at International Womens Day celebration IT Sligo Stand at a Business Expo hosted by Sligo Chamber of Commerce Information Stand in Johnsons Court Information Stand at INTREO office
Volunteer Managers Get Togethers
We facilitate 4-5 Volunteer Managers Get Togethers during the year. These forums offer a network of peer support for those who are managing volunteers within their organisation. In 2015 we held 4 Forums with 36 people attending them. The topics covered included: Talk on new PPN (Public Participation Network structure under local Government Reform); How to deal with the Media and Volunteering & Social Welfare.
Promotion of Volunteering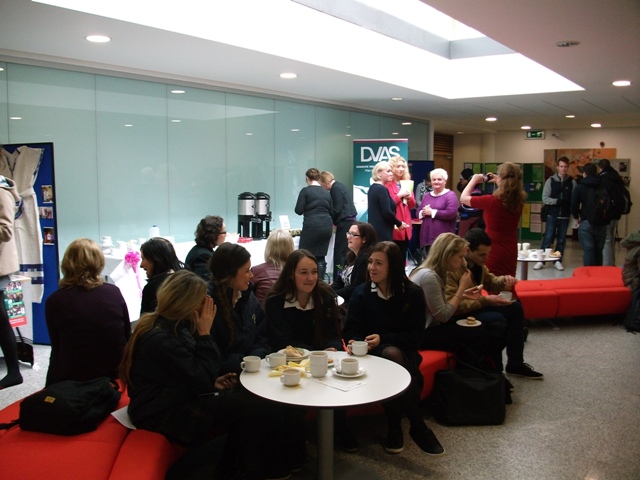 International Womens Day Celebrations in IT Sligo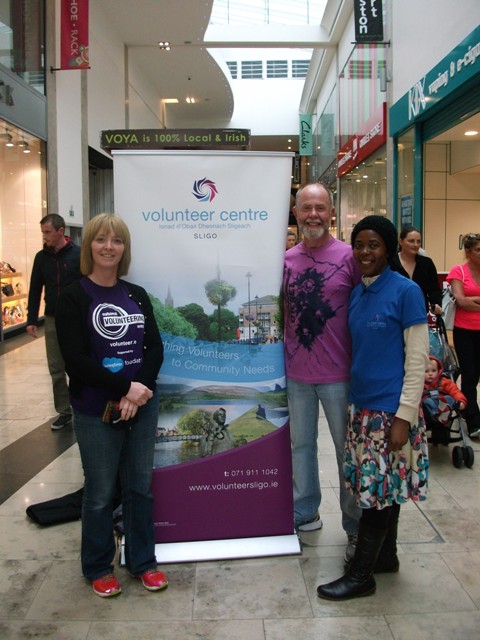 Above: Information Stand at Johnsons Court Right: Sligo Volunteer Centre Choir in action
We had a unique opportunity in 2015, to promote volunteering. Sligo Volunteer Centre gathered a choir comprised of Sligo Volunteer Centre staff, Board members and some staff and volunteers from a variety of community groups around Sligo, and participated in Sligo Sings. This initiative was organised by the Hawkswell Theatre who provided each Choir with a Choirmaster for a 6 week period. The end result was a performance in the Hawkswell theatre along with 5 other choirs. It was a tremendous experience and a lovely way to celebrate the work that we do. We also performed in Tesco Arcade to assist in raising funds for the North West Simon Community at Christmas.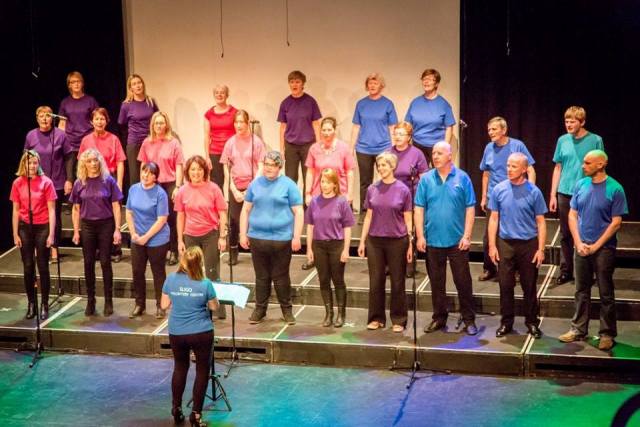 Sligo Volunteer Centre used this opportunity to promote Volunteering and the service. During National Volunteering Week we: Held Volunteer Management Training Launched a Discount Card for volunteers Promoted Sligo Volunteer Centre through Coffee Shop Ambassadors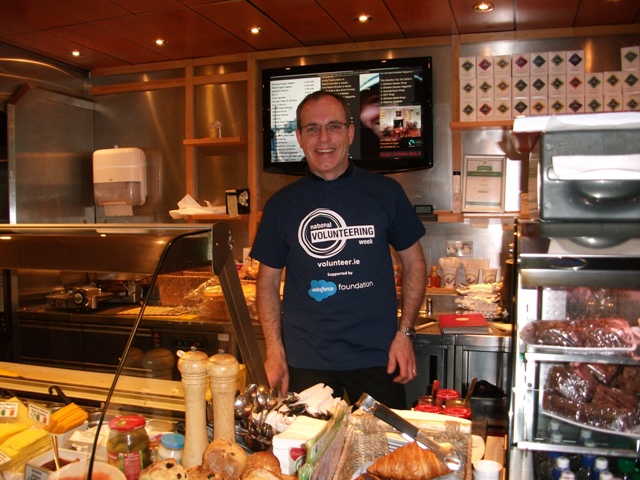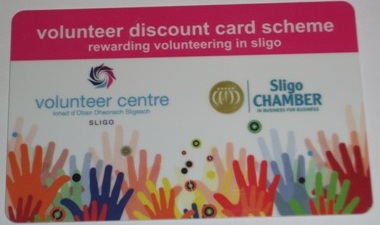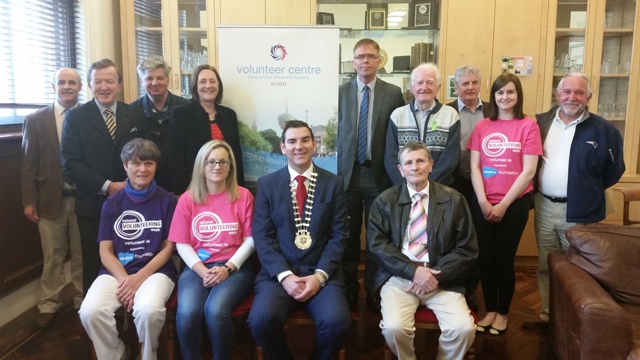 Des in Cafe Fleur, promoting National Volunteering Week
Staff & Volunteers of Sligo Volunteer Centre pictured at the Launch of Discount Card in the Mayors Parlour
L: Discount Card for Volunteers in conjunction with Sligo Chamber of Commerce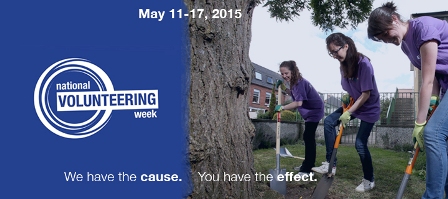 National Volunteering Week
We continue to grow our Social media Reach. We produced a Youtube Video at the beginnng of the year about the service. This had 338 views. By the end of 2015, we had 1255 Facebook 'Likers' and 1763 Twitter Followers.
We publish Community Notes in the Sligo Weekender each fortnight. We also submit a regular slot to the PPN EBulletin which is sent monthly to local Community groups. We publish a Quartlery EBulletin for Volunteer Involving Organiations and also a Quartlery bulletin for Volunteers. Thee methods of communication allow us to highlight volunteer opportunities as well a other news from the Centre.
Local, Regional and National Work
It is important for Sligo Volunteer Centre to be involved in local services and planning where it is relevant to volunteering and our work. In 2015 the staff of the Centre have been involved in: • Board of Sligo Citizens Information Service • Sligo Lend a Hand Committee • Participating in & contributing to Sligo Local Economic & Community Plan Consultations • Age Friendly Sligo Consultations
The Connaught/Ulster Region of Centres is made up of Mayo VC, Donegal VC, Monaghan VC, Galway VC, Leitrim VIS and Roscommon VIS. The Managers of the Region meet up at least 3 times per year, to discuss regional isssues. For the first time in November 2015, we brought all staff of the Region together to discuss what had worked well for each Centre the previous year, and to plan as a Region for 2016. This was a very successful day, where we came up with a few concrete ways that we can work more closely as a region in 2016.
The staff of Sligo Volunteer Centre are committed to the National Network of Volunteer Centres and are proactive contributers to the Network and to National Working Groups and Campaigns. In 2015, staff of the Centre participated in: • Volunteer Centre Managers Network • Placement & Outreach Forum • VCNM Chairs Panel • Garda Vetting Working Group • Communications Working Group
Governance & Board of Directors
Sligo Volunteer Centre is a Company Limited by Guarantee and governed by a voluntary Board of Directors. The Directors through 2015 were: Mr. Larry Mullin, Chair, representing PPN Dr. Maria Gallo, Vice Chair, representing St. Angela's College Ms. Kathya Rouse, Treasurer Ms. Mary McMorland, Company Secretary Mr. Sean Forde Mr. Jack Devaney, representing Sligo LEADER Partnership Ms. Shupai Matewa Ms. Dorothy Clarke, representing Sligo County Council Mr. Hugh McConville, representing Youth
Sligo Volunteer Centre are committed to upholding good Govrnance and have started their journey with the Governance Code in 2015. The Governance Code Working Group are - Dr. Maria Gallo, Ms. Kathya Rouse, Ms. Mary McMorland and Ms. Ciara Herity
Sligo Volunteer Centre co-hosted an Information Session along with the Charities Regulatory Authority in October 2015. This was very well attended. Sligo Volunteer Centre will register with the Charities Regulator by early 2016. (This has since been acheived)
Company Number: 41650 CHY number: 17240