Quarterly Economic Dashboard Q4 2015 October-December Real Estate Transfer Taxes and Transient Occupancy Taxes, which are based on hotel occupancy, have been rising overall for the last few years. Sales taxes are also on the rise, but were strongly impacted in 2014 by the low cost of fuel. Due to the time needed for state collection and analysis, sales tax reporting always lags one quarter and is reported here for Q3 2015. Other City Revenues, such as Business and Property Tax, are reported annually.
Sources: City of Oakland Revenue Department, HdL Companies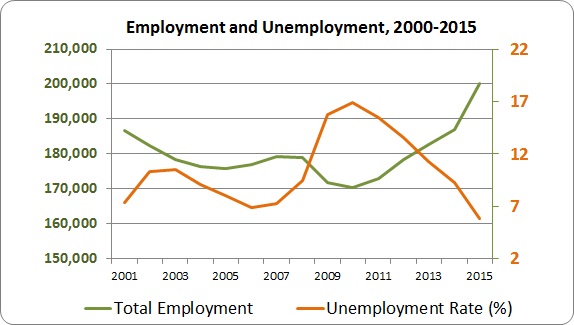 Industrial Vacancy: 2.6% Rent/square foot: $9.18
Retail Vacancy: 2.5% Rent/square foot: $22.88
Office Average Rents/Square Foot
Zillow Rent Index-- All Homes
Median Single Family Home Price
Units in pipeline are approved, under review or in pre-application discussion with the Planning Department.
Housing: 16,458 units in pipeline 1,317 units under construction or recently completed
Commercial: 3.5 Million sf in pipeline 681,000 sf under construction*
Sources:HdL Companies, Zillow, CoStar Market Analystics, City of Oakland Planning & Building Department. Dashboard Compiled by Economic and Workforce Development Department. Contact: [email protected]
Office Vacancy: 7.5% Rent/square foot: $ 25.15
*Per 2015 Major Projects List